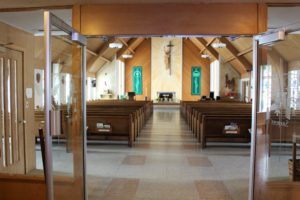 Announcements
Beginning July 31, the parish office has moved from the rectory to the religious education wing and will share office space with the director of religious education in the former second grade classroom.  Phone numbers remain the same.
Mon: No Mass
Tues: 5:15 PM
Wed, Thur & Fri: 8:00 AM
Saturday: 6 PM
Sunday: 7:30 AM & 11 AM
New! First Fridays Adoration: after 8 AM Mass until noon.
More Information
PreK - Grade 6:  Sunday 9:30 AM - 10:45 AM
Grades 7 - 10: Sunday 6:30 PM -  7:45 PM
Grades 11 and 12: Continuing faith formation group meetings for older teens who've already been confirmed Catholic are scheduled from time to time by Father Joe.
God has chosen to save us not as individuals but as members of a community of faith. For this reason, the faithful who wish to receive the sacraments Baptism, First Communion, and Confirmation are to be registered members of St. Mary's Parish. ALL are welcome to attend services and celebrate the Eucharist at St. Mary's!
Learn More