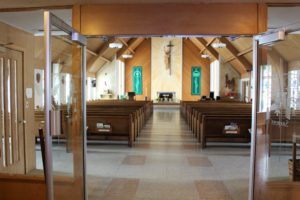 Announcements
Starting October 6-7, weekend Mass times are:  Saturday, 5:15 PM; Sunday, 8:00 AM and 10:30 AM.
No weekday Masses September 18 - October 5, while Father Janusz is visiting Poland.  Msgr. Hundt will celebrate the weekend Masses September 22-23, and Fr. Collins will celebrate the weekend Masses September 29-30.
Religious Education classes begin October 7, for PreK through 6th grade and October 10, for 7th-11th grade.
Mon: No Mass
Tues: 5:15 PM
Wed, Thur & Fri: 8:00 AM
Saturday: 6 PM
Sunday: 7:30 AM & 11 AM
New! First Fridays Adoration: after 8 AM Mass until noon.
More Information
PreK - Grade 6:  Sunday 9:15 AM - 10:15 AM
Grades 7 - 10: Sunday 6:30 PM -  7:45 PM
Grades 11 and 12: Continuing faith formation group meetings for older teens who've already been confirmed Catholic are scheduled from time to time by Father Joe.
God has chosen to save us not as individuals but as members of a community of faith. For this reason, the faithful who wish to receive the sacraments Baptism, First Communion, and Confirmation are to be registered members of St. Mary's Parish. ALL are welcome to attend services and celebrate the Eucharist at St. Mary's!
Learn More